Stop Bullying Before It Grows...
---
This fun and exciting 5 book series helps children build the interpersonal skills they need to grow on. This series encourages children through stories that address one bully scenario at a time. These wonderful storybooks are filled with colorful illustrations, easy to read text for beginning readers, and easy to understand concepts of problem solving. As an added feature, each story has a simple question and answer section in the middle and at the end that allows children to express their opinions and draw conclusions from proposed actions in the story.

---
---
Featured Books and Programs..
(each featured book has an associated program for schools and libraries..)
Great Tools For Teens!
For Teens & Tweens
"The Stand Up Crew"; Stand Up, Stand Strong, Stand Together for good....
"The Stand Up Crew" is a triumphant and inspirational story that illustrates the many ways that young people can overcome being bullied in nonviolent and constructive ways.

This riveting story highlights the negative impacts of bullying and the many ways to nonviolently combat and overcome the blatant assaults. This easy to read novel is a dramatic and graphic presentation of common bullying scenarios that provides readers with an accurate depiction of bullying from the perspectives of the bully, the victims, and the bystanders.Through gritty language and character interactions, this novel also illustrates the many effective ways young people can overcome the perils of being bullied in school and at home.

The story follows 5 friends; Angela, Stefan, Melissa, Thomas, and Shirellda as they attempt to deal with individual bullying attacks targeted against them by many of the same tormentors at Eastwood High School in Cleveland, Ohio. Throughout the story, the 5 friends begin to realize that they are not alone in their struggles to survive the regular and often brutal assaults that have become all too routine in their daily lives.

With the help of a school social worker, the 5 friends decide to band together and use their combined power to stand up against those that seek to do harm. "Stand Up, Stand Strong, Stand Together" becomes their motto as others decide to join their organization to make sure that no one stands alone, is left alone, or feels alone as they all stand as one for good.

This book is a great read by itself but can also be used as part of the Student Life Improvement Program that combines this book with a guide book that helps students organize their own "Stand Up Crew" in their school buildings. It is also a great tool for parents, teachers, and school administrators to help young people positively address common bully situations and other growing pains they may encounter.

This easy to read novel is age appropriate, gritty, and keeps readers attentions with familiar language and scenarios on which they can relate. Young readers enjoy reading this story that illustrates familiar and unfamiliar situations, informs them on how to overcome challenges, and educates them on how to use their strengths to live happier lives. "The Stand Up Crew" is an all around good reading experience for tweens and teens of all reading levels.


---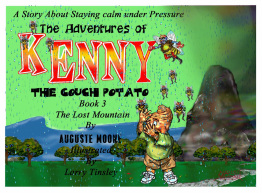 "The Adventures of Kenny The Couch Potato; Play Along Storybooks" is a 5 book series that follows Kenny; the couch potato, and Kaylah Bear in an exciting adventure to reclaim Kenny's dreams that were stolen by the evil Tyrex. By using his powers of evil imagination, Tyrex plans to steal all of the world's dreams giving him the power to take over the world. However, Kenny and Kaylah are hot on Tyrex's trail as Kaylah uses the powers of good imagination to find Tyrex and battle him for the stolen dreams. Together, Kenny and Kaylah go through countless obstacles which require them to run, jump, swim, roll, and climb to avoid imminent doom. Throughout the adventures, children are prompted to move along with the characters as they run in place, jump up and down, remember direction, count, and make similar movements as the heroes of the story. This is not just listening to a story; this is an adventure in active play that gets children moving around, burning calories, following instructions, and enjoying it all.

"The Adventures Of Kenny The Couch Potato" are stories that not only encourage literacy in young children, but they also give parents and guardians an opportunity to be actively engaged with their children in play times that everyone will enjoy.


---
---
---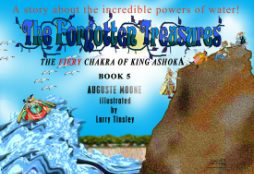 "The Forgotten Treasures; Stories About The Powers of Healthy Foods" is an animated 5 book series that teaches children of all ages about the importance of eating healthy foods along with the downfalls of eating too many unhealthy foods. As part of each story, children are given a brief history of a particular fruit or vegetable; its origins, and that foods benefits to them in an imaginative story that captures their interests. At the end of each story, children are given a quick and easy recipe to prepare with their parents using the featured story food.

The stories follow Dr. Sims and her trusted helpers; Tinoh and Hannah, on their mission to stop the evil Professor Creeps and his Groochys; Sweet Patty, Crumby Chester, and Sticky Fitz, from capturing the mystical and magical "Forgotten Treasures of Dingus Khan". Professor Creeps has vowed to use his stolen list of Dingus Khan to find all of the Forgotten Treasures and use their powers to take over the world. But Dr. Sims and her faithful helpers are hot on his trail and will not give up until the Forgotten Treasures are safe from his evil grasp. Using their Flash Transporter, Dr. Sims and her helpers follow Professor Creeps all over the world and discover fruits and vegetables native to each land that have special powers.Each story pits good against evil with characters that children of all ages can identify. As the main characters battle to capture the Forgotten Treasures, they discover that true powers come from eating the right fruits and vegetables and that the real Forgotten Treasures are grown from the earth and from deep within instead of shiny things made by hand.


---
---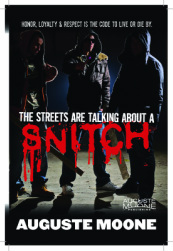 Revenge, violence, and betrayal are the foundation of two forgotten gang member's jailhouse plot to hit the streets and break the oldest street code; "Don't Snitch". This secret pact sets them on a collision course with destruction all in the name of saving the gang's most prodigal son.

This riveting and gritty mystery takes a dramatic look at the dynamics of one of the street's oldest taboo as it is challenged through the main characters convictions to gang loyalty, greed, and life long friendship. The story follows the main character "Rock" who, as a teen, is sent to prison with his best friend; "Big Red", for a questionable killing of rival gang members in a neighborhood bar brawl. As they sit in prison, Rock and Big Red recount the events of that one life altering night and determine that things ere not as they seem. Realizing the wrongs of their past coupled with many suspicious unknowns, Rock vows; upon his release, that he will do whatever it takes to dismantle the gang and stop the nonsense. However, Rock's plan becomes complicated as Big Red's son resists any ideas for living a life free from gang culture. The plot thickens as gang members are getting killed or caught by the authorities under suspicious circumstances leaving everyone to wonder; "who is the "Snitch".

"Snitch" is a great reading experience for tween and teen as it gives them a true picture of this dynamic of urban culture. It also is a great teaching tool for parents, teachers, and youth group leaders to facilitate discussions with tweens and teens about the perils of gang memberships and the history behind the concept of "Snitchin". This short novel has an available Study Guide book that can help facilitate group discussion for further understanding of cause and effect scenarios.



Download your copies today...or request hard copies of each of these wonderful and educational books!!!!
---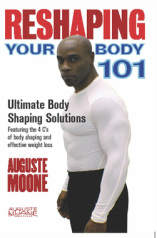 Take control of your mind and shape your body to become the best "You" that you have ever seen....
"Results Are Just The Beginning!"

This phenomenal and easy to follow handbook motivates and empowers you to improve your life through doable strategies and techniques that take the guesswork out of eating right and gets you moving through easy exercises on the road to good health. Reshaping Your Body 101 is the handbook that helps you identify those problem areas and roadblocks that have plagued your health improvement progress as you develop the tools and knowledge to become the champion in your personal battle of the bulge.

No more seeing life pass you by. It's time to start living those dreams of happiness and freedom that tantalize your emotions and say "yes" to building the new you. Reshaping Your Body 101 removes any doubts you have about your success and takes you from a "waana be" to the person you've always wanted to be.

**Order your copies today by contacting us on the "About Us/Contact Us" page on this site, email auguste@augustemoone.com with your order request. This book is also included in the "Improve Your Work Day Seminars/In-Service Programs.
---