The Boogymen; 5 Book Set
Vol. 1, includes all 5 books.
Price includes $19.99 plus $5.00 shipping&handling
For orders of 3 or more book sets, please email us your order request at
auguste@augustemoone.com
. We will email you an invoice for your order within 24 hours; and after receipt of funds, your order will be sent to you within 5 business days. This allows us to give you a reduced shipping cost.
Download at
http://www.amazon.com/dp/B00EJ9X6PY
Order or Download Your Copies Today...
The Stand Up Crew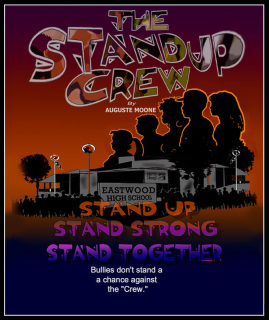 The Stand Up Crew is a riveting story about the negative effects of bullying and the many ways to nonviolently combat and overcome the blatant assaults. This dramatic and graphic presentation of common bullying scenarios provides readers with an accurate depiction of bullying from the perspectives of the bully, the victims, and the bystanders.
The story follows 5 friends; Angela, Stefan, Melissa, Thomas, and Shirellda as they attempt to deal with individual bullying attacks targeted against them by many of the same tormentors at Eastwood High School in Cleveland, Ohio. Throughout the story, the 5 friends begin to realize that they are not alone in their struggles to survive the regular and often brutal assaults that have become all too routine in their daily lives.
With the help of a school social worker, the 5 friends decide to band together and use their combined power to stand up against those that seek to do harm. Stand Up, Stand Strong, Stand Together becomes their motto as others decide to join their organization to make sure that no one stands alone, is left alone, or feels alone as they all stand as one for good.
Download your copy on Kindle and Amazon today at
http://www.amazon.com/dp/B00JSKATN6
For hard copy orders, please contact us by email at auguste@augustemoone.com