Take a quick peek inside of each 8" by 7" storybook that teaches children how to effectively
deal with individual bully situations. Each fun and encouraging story addresses one bully
scenario at a time. These wonderful storybooks are filled with colorful illustrations, easy
to read text for beginning readers, and easy to understand concepts of problem solving.
As an added feature, each story has a simple question and answer section in the middle
and at the end that allows children to express their opinions and draw conclusions from
proposed actions in the story. These storybooks are great for one on one readings at
bedtimes, during classroom and group discussions, and of course with those youngsters
who want to solve their problem by themselves without tattling....

Take a peek inside each book...
Book 1..."Don't Pull My Hair"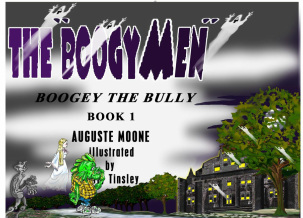 "You three spooks," growls Titus,"have failed to scare at least one child since you
signed up to become Boogymen." "Boogymen are the scariest most dreadful
creatures in the spooky business,"explains Titus....Mylo walks around to the side of the bed and stands directly in front of Susie and growls "grrrrr; booogy, grrrr, boogy", but she doesn't even look up at him….. Susie sits up in the bed and explains "I am afraid to go to school tomorrow because this girl named Tessy keeps pulling my hair and calling me names." ..."What are we doing," asks Mylo to the others? "I did not get my scare. We are supposed to be scaring this kid not helping this kid become not scared."


---
Book 2..."Don't Push Me Down"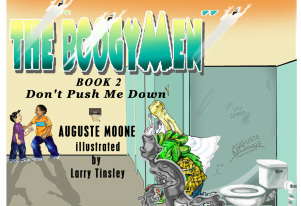 Smokey transforms himself into a shadow of an old creepy witch... "I am here to eat all little boys who enter my bathroom; inh, inh hiin," laughs Smokey….The little boy slowly looks up at Smokey and replies "good."… "Please eat me up," requests the little boy."I don't want to go back out there and play on the playground again."… The little boy sniffles his nose and explains; "every time we play on the playground; this other boy named Damon pushes me down." … Gizzy looks at the other spooks and suggests "we have to do something."



---
Book 3..."Don't Call Me That"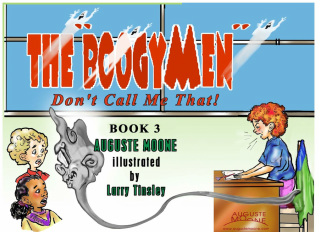 Mylo crouches down close to the floor. He waits until the little girl glances at him then he jumps up high and belches out a thunderous roar. .. "Grrrr,"snarls Mylo. "I'm scary, I'm scary; can't you see?"…The little girl looks up at the three spooks and mumbles "I'm not a stinky head."… "I'm tired of them calling me stinky head and I want them to stop."…Smokey places his hand on Carla's shoulder. "Tomorrow, Gizzy and I will ride along to school with you in your coat pockets,"suggests Smokey. "That way, we can help you if you need us."





---
Book 4..."You're Not The Boss Of Me"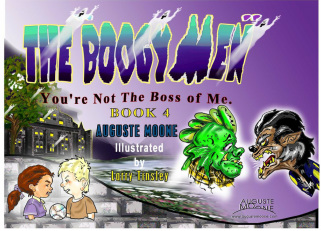 "Somethingis wrong here," suggests Gizzy. "She's not scared of us, but she is scared of something else."…The little girl looks up at Gizzy with tears bubbling in her eyes. "I don't want to go to recess anymore!" exclaims the little girl… The
little girl shakes her head back and forth. "I don't like recess because this boy named Steven keeps bossing me around every time we play a game," explains
the little girl. "I don't like being bossed around."...Smokey places his hand on
Candice's shoulder. "Well, Candice did you tell Steven to stop trying to boss
you around?"asks Smokey. Candice frowns and makes a fist with both of her hands. "I told him to stop bossing me around but then he pushes me and everybody else to make us play his game," she explains in an angry voice...."Ok, Mylo, you go with Candice to the playground and make sure she stands up to Steven," adds Gizzy.


---
Book 5..."A Seat On The Bus"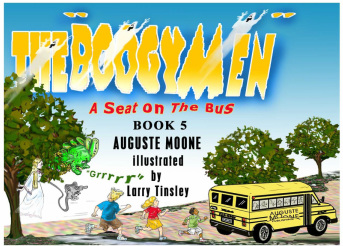 The little boy doesn't shutter or even frown as the three spooks attempt to scare him. He turns around and walks slowly back and sits down in his seat at the kitchen table…."I don't want to ride the bus anymore!" cries the little boy."I'm tired of riding the bus to school."… "Every time I get on the bus to go toschool, some of the others kids won't let me sit down," cries the little boy....Mylo gets a little angry and stomps his feet on the kitchen floor. "Why don't you just sit on those kids when they sit in your seat," growls Mylo..."Mylo, shush!" scolds Gizzy.
"You know that you can not always solve pushing and shoving problems by jumping
on the person who is doing it."...Gizzy turns to Smokey. "You are the only one who can go with David on the bus as his shadow," says Gizzy. "Make sure he does not get cold feet...



---