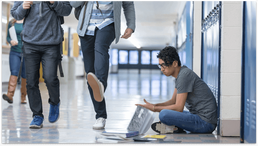 ​Bullying and Substance AbuseSubstance abuse and bullying are behaviors that frequently co-occur among adolescents. Research even indicates the behaviors are linked.
A study by researchers at Arizona State University showed that substance abuse correlates to higher bullying aggression among middle schoolers and high schoolers. A Partnership for Drug-Free Kids study found that middle and high school students who bully their peers have higher rates of alcohol, cigarette and marijuana use.
Dr. Amanda Nickerson, director of the Alberti Center for Bullying Abuse Prevention at the University of Buffalo says that many of the behavioral factors that lead to bullying can also lead to substance abuse.
"A fair amount of research has found higher rates of substance use among bullying perpetrators," Nickerson said at a conference, according to the Partnership for Drug-Free Kids. "Substance use may be one part of a cluster of problem behaviors, as well as aggressive and rule-breaking behaviors, among bullying perpetrators."
Bullying and substance abuse
are associated with negative consequences, such as:
Delinquency
Poorer academic performance
Dropping out of school
Mental health disorders
Often, these consequences perpetuate substance abuse and bullying behavior.
Causes of Bullying and Substance AbuseThere are a wide range of environmental and genetic risk factors that play a role in substance abuse and bullying behavior among adolescents. These risk factors include:
Parental Relationships: Adolescents with better relationships with parents are less likely to bully others or to use drugs or alcohol. Kids of parents who monitor their child's activities are also less likely to use drugs or alcohol or engage in bullying behavior.
Peer Influence: One of the most common factors in bullying and substance abuse behaviors is peer influence. Adolescents who engage in such behaviors may be trying to gain the approval of their peers by mimicking their behaviors.
Sensation Seeking: Some adolescents engage in substance abuse or bullying behavior to experience a desired feeling, such as power or euphoria.
Aggression: Multiple studies show that substance abuse and bullying are each linked to aggressive behavior. Aggressive behavior is an indicator that the child is more likely to engage in substance abuse or bullying as they age.
Evenings Spent with Peers: A study by researchers at Johns Hopkins University found that there is a correlation between the number of evenings spent with friends and substance abuse and bullying behavior. The study shows that as an adolescent spends more evening time with their peers, they have higher risks of engaging in substance abuse and bullying behaviors.
Being Bullied: Victims of bullying may engage in similar behavior to feel power or as a response to being bullied. Kids who are victims and also engage in bullying behavior are more likely to abuse drugs or alcohol.
The majority of adolescents do not engage in substance abuse or bullying behaviors. According to a study by researchers at the University of Washington, 5.4 percent of adolescents bully others and use substances of abuse.
Parents and guardians can prevent substance abuse and bullying among their children.
Parents should be vigilant. Look for
signs of substance abuse
and bullying behavior. Talk to your child about why bullying is wrong and try your best to know what your child is doing with their free time. Simply being involved in your child's life can have a profound impact on whether or not they engage in substance abuse and bullying.
About the Author: Trey Dyer is a writer for DrugRehab.com and an advocate for substance abuse and mental health treatment. When Trey is not writing, he can be found planning his next traveling adventure, fly fishing or cooking.
Sources:
Carlyle, K. & Steinman, K. (2007, November). Demographic Differences in the Prevalence, Co-occurrence, and Correlates of Adolescent Bullying at School. Retrieved from
https://www.ncbi.nlm.nih.gov/pubmed/17970866
Gage, J.C. et al. (2005, December). Peer Activity in the Evenings and Participation in Aggressive and Problem Behaviors. Retrieved from
https://www.ncbi.nlm.nih.gov/pubmed/16310130
Harding, F.M. (2013, January 29). What Do Bullying and Youth Substance Use Have in Common? More Than You Might Think. Retrieved from
https://www.stopbullying.gov/blog/2013/01/29/what-do-bullying-and-youth-substance-use-have-common-more-you-might-think.html
Luk, J.W., Wang, J. & Simons-Morton, B.G. (2013, October 1). The Co-occurrence of Substance Use and Bullying Behaviors among U.S. Adolescents: Understanding Demographic Characteristics and Social Influences. Retrieved from
https://www.ncbi.nlm.nih.gov/pmc/articles/PMC3432689/
U.S. Department of Health & Human Services. (n.d.). Facts About Bullying for Kids. Retrieved from
https://www.stopbullying.gov/kids/facts/#bully
Vimont, C. (2016, October 13). Research on Substance Abuse and Bullying Yields Some Surprising Findings. Retrieved from
http://drugfree.org/learn/drug-and-alcohol-news/research-substance-abuse-bullying-yields-surprising-findings/